Hello There,
I've noticed just recently that I do not seem to document enough of the little adventures that Tracy and I get up to. No, nothing 'interesting' - I'm simply referring to day-trips and such. I haven't been doing this on purpose. In truth, I've always kept my online and off-line life separate... once again, not on purpose. I guess I treat the internet as a whole as a sort of '
Second Life
', though without the extra second partner or such.... nor do I pretend to be someone else... I guess this wasn't such a good comparison. Either way, I'm not deleting it now!
So, back to the point then - A couple of weeks ago, Tracy and I enjoyed our 9 year anniversary. That is, 9 years since we started going out. Its a glorious number, in my view. While we originally intended to go away for the weekend, in the end we decided to take a little road-trip to the
Nambung National Park
have gaze upon the Pinnacles.
We didn't go directly there though - We stopped off at
La Tropicana Cafê
in Cottesloe first, and enjoyed a fine breakfast.
Lets have a quick look at some photos. Here we have a few Pinnacles in a row. Note: Photo taken in Sepia Tone.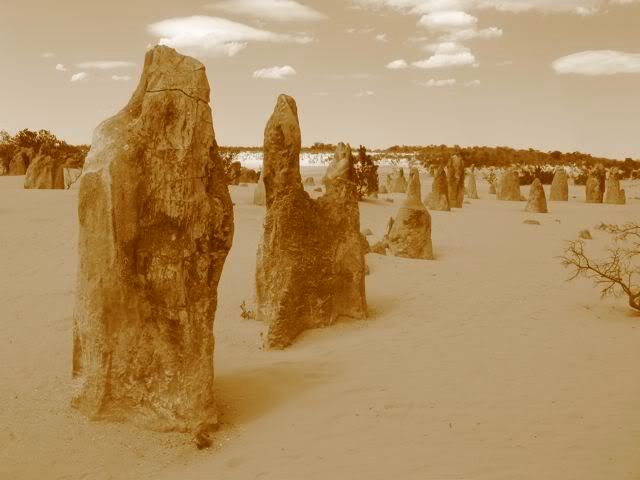 As you can see, these things are located in a desert landscape. The blue sky looked fantastic, contrasting against the colour of the sand.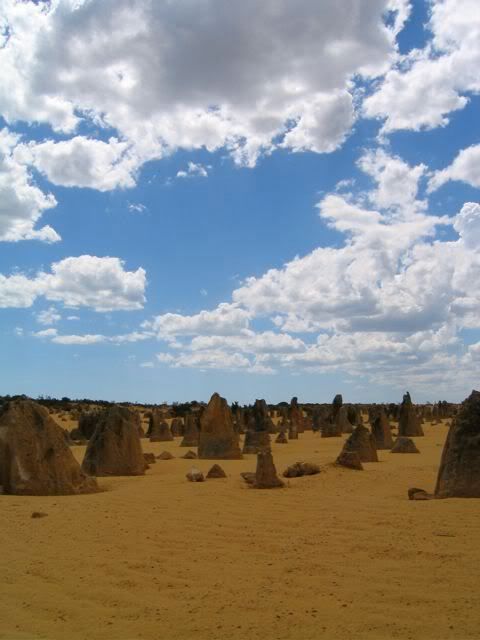 Tracy and I. We spent some time walking amongst the rock formations. It was a bloody hot day, so we only got out of the car twice during the Pinnacle drive... but we made the most of it, when we did.
Here's a shot from a higher vantage point. The Pinnacles are scatters in all directions. I quite liked the look of the sand-duens slowly making their way towards them... I guess they will eventually be covered again.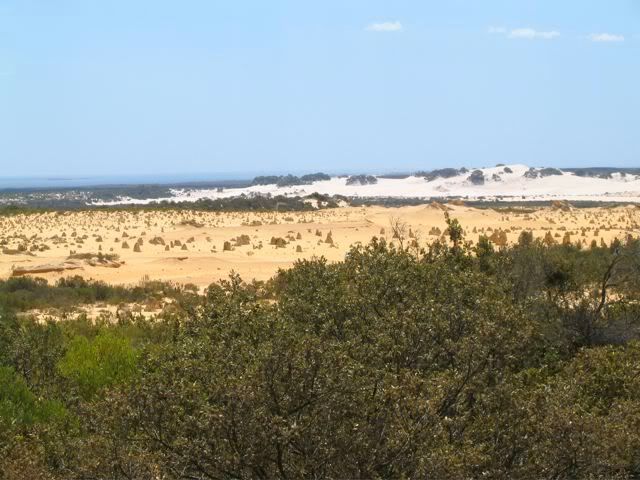 We stopped off in
Cervantes
on the way back, and enjoyed a vegetarian pie, which I'm sure had been sitting under the griller for more than 28 hours.... it was strangely delicious though, and kept us satisfied until we got home.
For dinner we went to
The Black Swan
in the
Swan Valley
. It was quite romantic. The views over the vineyard were fantastic. Tracy and I are not really the 'Dining Out' type, but we both enjoyed the atmosphere, the food (small as it was) and the company. I certainly hope to go again one day.
On that note, I shall call it a day.
Cheers
aussiepioda