Here I find myself again,
About two hours ago, I sat down at the computer with specific purpose to write a journal entry... so what has taken me so long? The fact that this is the first line will probably tell you that I didn't start writing two hours ago, lest I'd be a worse typist than my keyboard challenged father. No, the reason for this long gap was my first (and probably last) time listen to the track '[untitled]' by
The Flaming Lips
, which is the last track on their '
Hit to Death in the Futurehead
' album.
Basically, its 30 minutes of torturous sound which, I'm sure, must be illegal in some countries. How to best describe this? Its main focus is a electronic distorted 'noise' which alternates between left and right every half a second. The noise is of a slightly different pitch on each side... in the background there is an occasional baseline (very brief - do not mistake for music) which sorta leads you to believe that there is 'more coming'. After about 9 minutes of this, I could actually feel myself getting dizzy.... at the 15 minute mark, I was actually nauseous. By the time the
song
finished, at the 29min 16sec mark, my head felt like it had been fried... I was mentally disabled for a good 10 minutes afterwards. I cant help to think that that is exactly what these smart asses were after - much like the 15-kilohertz high-frequency tone in
A Day in the Life
by
The Beatles
(which John Lennon insisted be included, just to "to annoy your dog").
In a strange twist on my normal response to such discoveries, I DO NOT suggest you actually listen to all of it... have a quick 5 second taste of it, and leave it at that.
Speaking of
music
, I have finally started listening to
Mew
, which was recommended to me by
mr_lambi
quite a long time ago. I've only got a mp3 copy of their 'And The Glass Handed Kites' album, but I'm quite committed to buying it as soon as I see it somewhere. I think its very likeable. Its too early for me to pick a favourite track, but I'm sure my
last.fm profile
will reflect that soon enough.
On to other business - Saturday was a strange bit of fun... strange only in the sense that it 'felt' strange to me and we called it a night at 00:30, which is pretty early for us.
mr_lambi
,
haze
and I did our usual run to
The Moon
and had a Vegetarian Pizza and some chicken nachos... just as the time before (as documented by Blake
here
) it was pretty damn delicious. They put too much topping on the pizza, but the fantastic nachos made up for that... plus, I actually enjoyed a bottle of
Little Creatures Pale Ale
together with
mr_lambi
. Every time I drink that stuff, I feel proud to know that its a local brew.
We headed back to my place. I'm all
Mario Party 5
'd out for the time being. Don't get me wrong, I would love to play
6
or
7
- and I cannot wait for
Mario Party 8
- but I'm sick of playing the same game-boards, and playing the same minigames.
Instead, we played
Buzz! The Music Quiz
.
haze
and I could not be assed putting up with the tiresome 'gameshow' format, and thus it was decided that 'quickfire' mode would be the way to go. We played a couple of rounds (100 questions in the first, and another 100 in the second... I think :P ), by the end of which I was half asleep and struggling to keep my eyes open. It was early (as mentioned previously), but it was time to wrap it up.
Speaking of games and such -
haze
and I have been trying to clock
Mario Bros.
on the
Wii'
s
Virtual Console
. There are 35 'phases'.... the best we have managed so far is phase 19 (or was it 20?)... we'll get there eventually, and you'll be hearing about it here... it will be glorious!
Now I shall speak of
kelwebby
- I cant help but be startled by the textual output of this young lady. I, and most of my lj friends, update once a week or so.
kelwebby
updates almost daily... and I'm not talking about 1 or 2 lines, I'm talking full page updates... crazy times :P Dont get me wrong, I love it (who doesn't like having a peak at someone else's thoughts and activities), but I'm not used to such regular updates, and it makes commenting a lot more difficult. I usually wait until the weekend to comment on peoples entries... with
kelwebby
that means that there are 4 or 5 entries to comment on.... I am not complaining - I'm just not used to it.... startled by it even :-) Keep it up Kel - I might not comment on everything you write, but I certainly do read it.
I shall now have a little mini-rant about the issues I'm having with my
Cambridge Audio 640R
. I shall try to keep my little rant as structured as possible, but I cannot guarantee that this will happen. For details of the actual problem, please have a look at
this
previous journal entry.
When I first become aware of the problem, I contact Cambridge Audio directly via their web-site support service. They got back to me pretty quickly, with the following reply:
Dear Sir,
We are looking into this as it has been reported elsewhere and indeed reproduced by myself with my test unit. The problem is to do with the decoding board and we are checking to see if it can be tweaked with software and nullified. It is interesting that you have a different effect with DD and DTS as we have replicated this with both formats.
As soon as we have some positive information, we will inform our distributors and dealers.
Regards
Ed Selley
Cambridge Audio
So basically, they are aware that such a problem exists, and they are working to fix it. I was, and still am, happy with this... at least I know that the problem has been acknowledged and work is underway to resolve the issue. I'm a patient guy and dont mind waiting if I know there is likely to be a positive outcome. So what is my problem?
To get this issue resolved, I have been dealing with the Cambridge Audio distributors in Australia -
Synergy-audio
. The guy from Synergy was great and kept me informed on almost a daily basis. He was eager to get the issue resolved as quickly as possible and was very enthusiastic to have me be satisfied'. So what is my problem?!
Well, my problem is the fact that Synergy-audio seems to be a lot more interested in a quick fix, rather than actually resolving the problem properly. Apparently they had been unable to get in contact with they guys from Cambridge in the UK (apparently they were on holidays), so they decided to test a unit in their office, ensure it works and have it shipped over for me to collect at West Coast Hi-Fi. Sounds good in theory, but as I mentioned in my previous post, the issues come up only with certain device configurations. I'm pretty sure they didn't test it with a Panasonic DVD player, or an LG Set-top box, let I doubt they would have sent it over to me. None the less, I drove up to Joondalup (40 min drive in peak hour) to pick up my replacement unit when it arrived on Friday. I took it home, plugged it in, and
Tada!
- the same problem as before.... only now my fuel tank is half empty.
They probably tested it once, with a
DVD89
, found that it worked and shipped it over. Really a waste of their and my time. I'm shitty because they never acknowledged the information that
I
gave them - that Cambridge themselves are aware of the problem and are actually working on a firmware upgrade to fix it. Instead they just assumed that everything would be ok if they just pulled another receiver out of the box. THATS NOT HOW YOU FIX THINGS!! THE 640R VERSION 1.0 IS FLAWED!!! SWAPPING A 1.0 WITH ANOTHER 1.0 WILL NOT RESOLVE THIS ISSUE!!!!
Anyway, I guess I will now wait to hear back from Cambridge Directly - Once they let me know that the firmware update is available, I will contact West Coast Hi-Fi again and have this issue resolved once and for all.
On a related topic - my LSK Project is finally completed. With
haze
's help I have created a set of speakers that I (at least) am proud of :-) It was a lot of work, but it was also a lot of fun. And it was satisfying to hear the TL6s come to life for the first time. I shall write a more detailed review of them later. For now, I have some pictures -
The TL6s' occupying their space in their temporary home in Tracy and I's bedroom. I'm using a M5 as my centre channel at the moment, because the C6 is too large to fit there at the moment. Naturally this wont be the case once we move, and all this stuff (exempt the Plasma) is moved into the theatre room.
Here we see on of the TL6's next to the troublesome Cambridge Audio 640R, and the LG DVR, on the temporary Ikea folda-table :P
The other TL6, next to the Richter Thor IV (signalling its ready to thunder, with its blue-eye!)
And here it is again - different angle.. slightly... almost too slightly to bother uploading.... too late.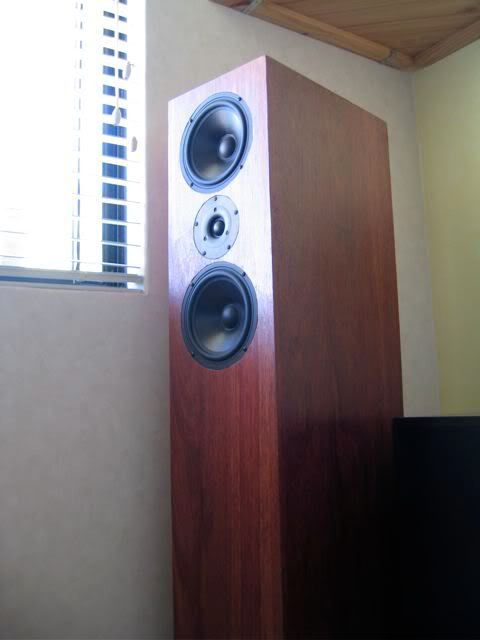 I will have to take a couple of pictures of the C6... better yet - once we move, I will model them all together... one final family portrait, before they are permanently placed into their corner of the theatre room.
A couple of quick topic -
Daylight Saving
- I love it... I wish to keep it. I will vote 'yes'
Markus
- I'm still happy with the news that he has decided to go into rehab - I just there wasn't a waiting list.
Some pictures of our house
Should be ready to be moved into within the next week or two :P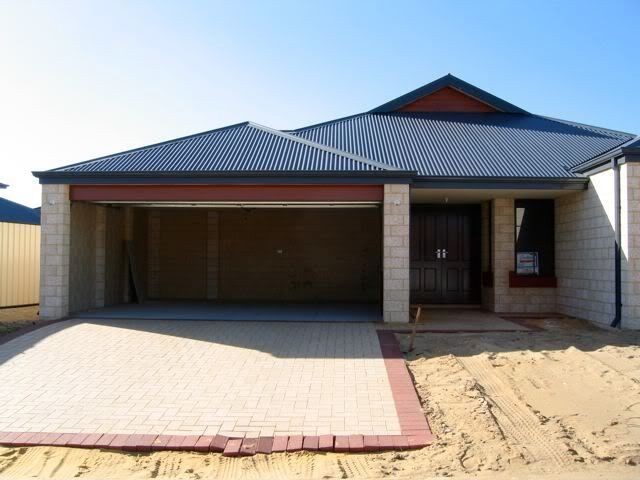 That is all.
Cheers
aussiepoida